Acode
Powerful text/code editor
Version: 1.8.0
Added: 09-04-2021
Updated: 06-04-2023

A powerful code editor for android. Edit like a pro.
Why Acode?
* Edit remote files (FTP/Github).
* Edit files from your internal/external storage.
* Supports maximum number of lines.
* Supports syntax highlighting for 100+ programming languages.
* Manage you files and folder very easily.
* Run or preview you web applications.
* Preview includes inbuilt interactive js console.
* Keyboard shortcuts.
* Customizable.
* Open any file with any application.
* Updated frequenlty.
* Fast bugs fixes.
* And it is open source.
---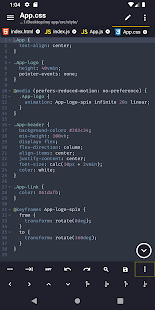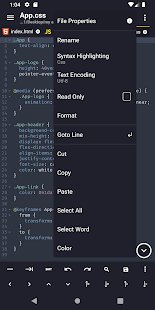 code
Source
file_download
Download