Beacon Locator
Interact with Bluetooth beacons
Version: 1.2.2
Added: 27-02-2016
Updated: 30-01-2019

Scan, locate and track Bluetooth LE beacons (Eddystone, iBeacons or AltBeacons)
allows you to define actions that will be triggered when a specified event
occurs.
These events are supported:
* Beacon enters a region (beacon in range)
* Beacon leaves the region (beacon is out of range)
* Beacon is near you
For each event you can define unlimited number of actions :
* Start an application
* Open url
* Get current location
* Broadcast intent action
* Set Normal / Silent mode
* Execute tasker action (http://tasker.dinglisch.net) for unlimited action possibilities
For example, you may set a silent mode entering your bedroom...and set normal
sound profile leaving it.
Additional information is supplied in the
help section
of the wiki.
---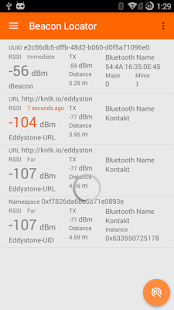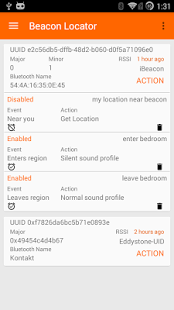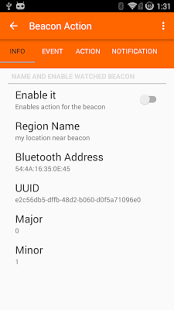 code
Source
file_download
Download