BeTrains NMBS/SNCB belgium
Provides Belgian train times
Version: 4.534
Added: 16-10-2014
Updated: 23-01-2016

BeTrains is a useful (non-official NMBS/SNCB) tool for people travelling by Train in Belgium. A perfect match between a simple application of route planner and timetables, and between a communicative and social network oriented platform! So many features! Give it a try:
Route planner: The easiest way to travel in Belgium.
Real time information!
Social networks: Twitter is your friend, and gives you all the real-time
user information (using #SNCB, #NMBS, #BeTrains hastags)
Included chat: allow you to communicate with all the Android people in your
train. A very cool tool if you are alone on your seat and want to meet
people.
Traffic issues: get all the issues in the train network.
Get the closest station! Once you got it, launch Google Maps, or Navigation
(need Android 1,6 or higher)
Follow @BeTrains on Twitter!
---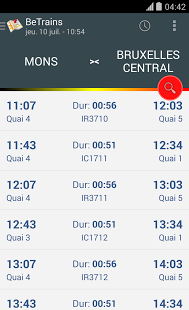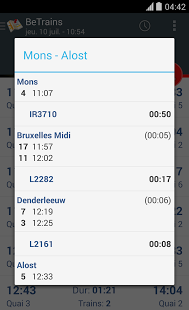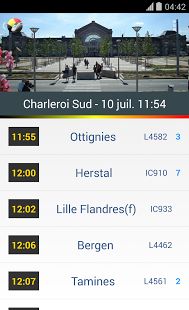 code
Source
file_download
Download