Did I Take My Meds?
An app to manage and track medication doses
Version: 1.4.2
Added: 22-07-2021
Updated: 20-11-2021

Did I Take My Meds? helps keep track of when to take medications. It is designed to help prevent a user from skipping doses and/or overdosing.
Did I Take My Meds? allows a user save multiple medications with complex schedules. Each medication can trigger an independent reminder notification. Additionally, this application allows a user to record when they take a dose. As a part of a medication routine, this app can help prevent overdoses and skipped doses.
---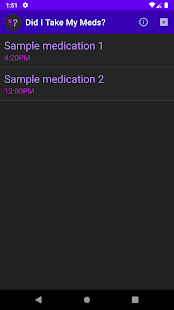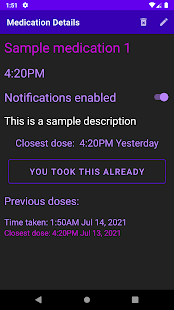 code
Source
file_download
Download