Libero Vocab
An app for Android to practice with vocabularies in the KVTML format.
Version: 0.9.2
Added: 08-08-2020
Updated: 25-01-2021

Libero Vocab allows you to use vocabularies in the KVTML data format, as developed by the KDE Education Project. It is not a vocabulary in itself, but lets you use pre-existing vocabularies: if you already have a vocabulary, the app provides the functionality you need to practice with it. Vocabularies can be self-produced, using programs such as Parley, or taken from collections of KVTML vocabularies such as:
https://edu.kde.org/contrib/kvtml.php?
Libero Vocab is a fork of another program called "Vocab Drill", by Károly Kiripolszky with contributions of Matthias Völlinger.
Features:
* Support for lessons.
* Grade mechanism.
* Possibility to practice listening to the recorded sound of a word or phrase without seeing the corresponding text (of course audio recordings must already be provided in the vocabulary).
* Support for the test types: Flashcards, Multiple choice and Writing.
* Possibility to practice static collections of words or phrases with which both the lesson and the grade filters are bypassed.
---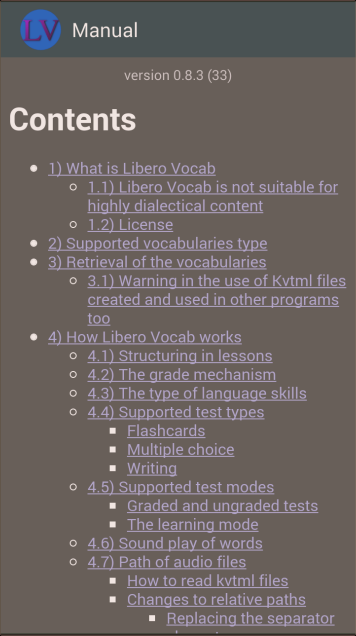 code
Source
file_download
Download