Locker
Enforce maximum failed unlock attempts
Version: 1.1.0
Added: 24-03-2016
Updated: 17-06-2016

Concerned about loosing your phone and worried someone might figure out your
unlock code and access your personal information? Locker is here to keep you
safe. Locker is as simple as it is brilliant. Specify the number of allowed
attempts to unlock your phone. If the number of attempts exceeds this number the
phone will be wiped and erased, protecting your personal information.
While Android does not offer the option to restrict the number of device unlock
attempts directly, there is a device administration API that allows such a
policy to be enforced hrough third party applications. This is exactly what
Locker does.
Locker activates and enforces the security policy that will trigger a full
system wipe when the specified number of unlock attempts have been exhausted.
Depending on what lock screen application you are using the user will be
presented with warning messages when the number of remaining attempts is 4 or
less.
---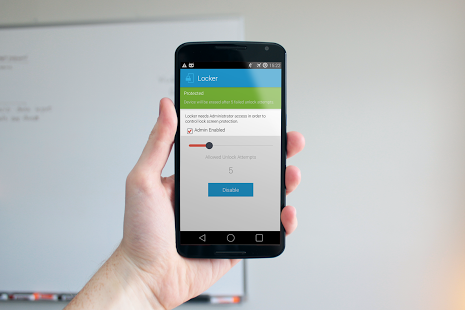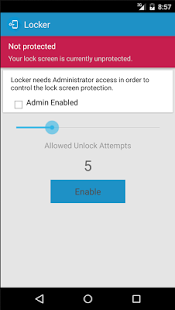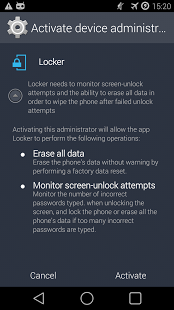 code
Source
file_download
Download