LRC Editor
Create and edit lyric files with ease
Version: 3.2.6
Added: 24-09-2020
Updated: 06-03-2021

LRC Editor helps you to create and edit lyric files ( .lrc files ) easily.
Features:
- Comes with a small built-in media player to help you synchronise your lyrics with your song
- Supports both fine and coarse tuning of timestamps for synchronising your lyrics perfectly
- Supports powerful batch editing features to adjust timestamps quickly
- .lrc lyric files can be directly opened from your file manager with this app
- Lightweight and Ad free
You can use .lrc lyric files to add lyrics into music players that support them for example the stock music players of Xiaomi, Huawei, OPPO, Samsung etc
Try it out now!
If you face desync issues, make sure you're using a high quality constant bitrate MP3 file or a music container suited for precise seeking.
A big thank you to all the translators:
- Chinese Traditional (zh-rTW) by Martin C
- Chinese Simplified (zh-rCW) by Krasnaya Ploshchad
- French (fr) by tintinmar1995
- German (de) by Leon Thelen
- Indonesian (in) by Fajar Maulana
- Polish (pl) by Zbigniew Zienko
- Portuguese (pt-rBR) by Ayrtown Karlos
- Spanish (es) by Jonathan Martinez
---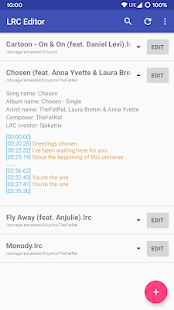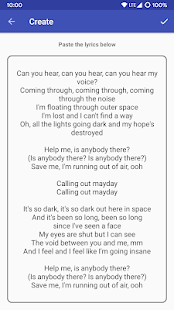 code
Source
file_download
Download