MHWorld Database
Gathering Hall Studios is back with an all-new app for Monster Hunter World!
Version: 2.1.1
Added: 31-08-2020
Updated: 24-03-2021

*ICEBORNE DATA IS ONLY AVAILABLE AFTER PC RELEASE - SORRY!*
Gathering Hall Studios (creators of MHGen Database and MH4U Database) releases a quick and easy to use Monster Hunter World reference, including armor, monsters, decorations, skills, and more!
Features Include:
- *Universal Search*
- *TRANSLATIONS*
- *OFFLINE ACCESS*
- *Free and Open Source*
- Monster Weaknesses, Hitzones, and Rewards
- Gathering Points and Drop Rates
- Item Combinations
- Weapon List with Material Requirements
- Armor List with Skills and Material Requirements
- Decorations List with Feystone Drop Rates
- Charms List with Material Requirements
- Bookmarking!
Future Updates to Include:
- Armor Set Builder
Note: Translations is currently in Beta. Currently supported languages include:
- English
- 日本語
- Français
- Italiano
- Deutsch
- Español
- Português do Brasil
- Polski
- Pусский
- 한국어
- 繁體中文
- Arabe
Disclaimer: GatheringHallStudios is unaffiliated with Capcom, which owns the trademark for Monster Hunter. This is an app made by the community for the community.
---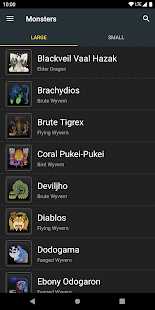 code
Source
file_download
Download