Mustard
Microblogging via StatusNet
Version: 0.4.1
Added: 09-12-2013
Updated: 09-12-2013

The versions here don't work with Twitter or identi.ca any more
. They only
work with GNU Social (formerly StatusNet). You may like to try
https://f-droid.org/packages/org.mariotaku.twidere or https://f-droid.org/packages/org.andstatus.app, for Twitter; or
https://f-droid.org/packages/org.macno.puma for identi.ca.
Mustard is a full-featured client for
Statusnet
/ GNU
Social, a microblogging platform somewhat like Twitter, but decentralized. Note
that the hitherto largest Statusnet site,
identi.ca
, now uses
a different platform called
pump.io
.
It has many features like attachments, geolocation and avatar update. It
supports tags, groups and public timelines, favor/disfavor notices,
subscribe/unsubscribe users and multiple accounts.
If the server uses OAuth the credentials will need to be put on a server as
explained on the website.
---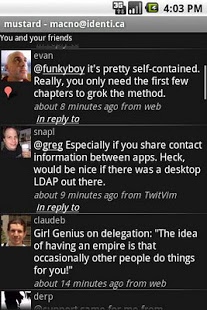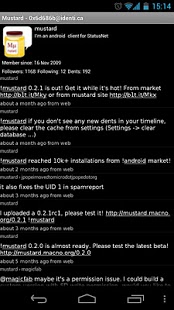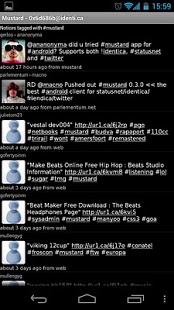 code
Source
file_download
Download