Package Manager
A powerful application to manage your apps!
Version: v3.4
Added: 25-01-2021
Updated: 24-02-2021

Package Manager
is a highly powerful application to manage apps, both system and user, installed on an android device.
WARNING: I Am NOT Responsible for any Damages on Your Device!
ROOT
Access is required for some advanced features.
Features
Package Manager
is a simple, yet powerful application, offering the following features
* A beautiful list view of System and User applications, together or separately.
* Helps to do basic tasks such as Open app, show app info, visit PlayStore page, uninstall (User apps), etc.
* Explore and export contents of an installed app (Experimental).
* Export individual or a batch of apps (including Split apk's) into device storage.
* Do advanced tasks such as (need Root access).
* Uninstall an individual or a batch of system apps (de-bloating).
* Install Split apk's/app bundles (supported bundle formats: .apks, .apkm, and .xapk) from device storage.
* Disable or Enable individual or a batch of apps.
Translations
Please help me to translate this application via
POEditor
. You may also translate after downloading the original language string available
GitHub
.
---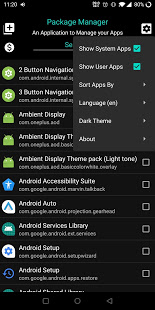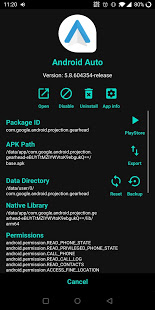 code
Source
file_download
Download