Quasseldroid
Chat comfortably. Everywhere. REQUIRES A QUASSEL CORE
Version: 1.6.2
Added: 28-06-2014
Updated: 14-03-2022

Chat comfortably. Everywhere.
REQUIRES A QUASSEL CORE – DOES NOT WORK AS STANDALONE IRC CLIENT
•
Use IRC on the go
– thanks to the Quassel core, you'll never miss anything
•
Always have your entire chat history available
– just scroll up to load older messages, the core keeps them for you
•
Be notified when someone messages you
– even if you had no connection in the meantime
If you are looking for the comfort you're used to from modern chat apps, Quasseldroid is the best free android IRC client for you — you'll get profile pictures, a beautiful UI based on Material Design, and all the features you love.
And best of all, it's fully free and open source.
Requirements:
You need to have an account on a Quassel core to use this app. If you have none, you can either set a core up yourself, or check if you can get an account on someone else's core.
This app only works with cores that run at least Quassel v0.10, for all features to be available you'll need Quassel v0.13
To learn about how to set up a quassel core, see
the wiki
Having trouble or feedback?:
Send us an email at support@kuschku.de
---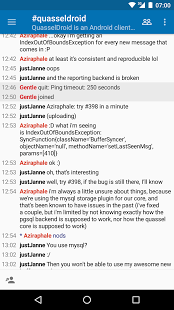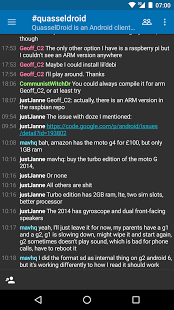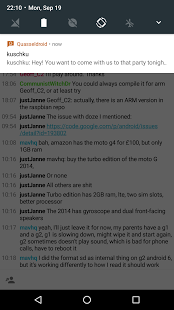 code
Source
file_download
Download