QuickWeather
Weather at a glance for anywhere in the world!
Version: 1.3.1
Added: 05-06-2021
Updated: 05-06-2021

QuickWeather is really fast. Just open the app and see the weather right
now. There's no loading screen and no wait time. The weather is delivered
to you with no extra junk, just clean and clear information.
You can add as many locations to the side drawer as you want to have their
weather a single tap away. QuickWeather can even determine your current
location if you allow it (location information is not collected)
QuickWeather is Always Free (No IAPs or Ads) and Always Open Source
Here's what you get
* Radar
* Current Weather
* Current Temperature
* Current Precipitation Intensity
* Current Wind Speed
* Current Humidity
* Current Pressure
* Current Dew Point
* Current Weather Notification
* Weather Alert Notifications
* Daily UV Index
* Temperature Graph (24hrs)
* Precipitation Graph (24hrs)
* Daily Forecast Weather
* Daily Forecast High Temperature
* Daily Forecast Low Temperature
QuickWeather is powered by
OpenWeatherMap.org
---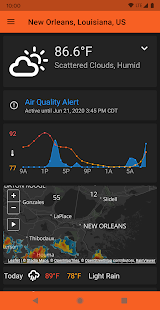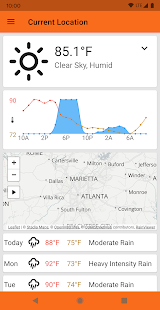 code
Source
file_download
Download