Quote... Unquote - a Quotations Widget
A simple App Widget featuring quality quotations.
Version: 2.0.1-fdroid
Added: 07-04-2021
Updated: 09-04-2021

Description
• Discover carefully chosen quotations from a diverse range of famous people.
• Increase your self-esteem and happiness with some of the best quotations available.
Key features
• 18,000+ quality quotations - compiled from reviewed sources with de-duplication.
• Minimalist, configurable, look & feel.
• A search feature to help you find inspiration.
Other items of interest
• All quotations are in English.
• Works offline - quotations are bundled in the App.
• No ads.
• No analytics,
• No permissions.
•
Open Source Software
---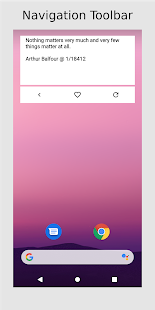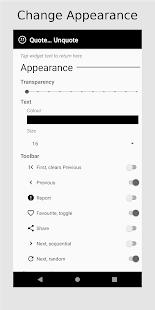 code
Source
file_download
Download