favorite Fossdroid Core is now open source: watch it, star it and fork it!
close
Rumble
Off-the-grid micro-blogging application for communities
Version: 1.0.2
Added on: 12-12-2015
Last update: 08-09-2016

Rumble is a completely off-the-grid application and delay-tolerant micro-blogging application that allows a device to connect, chat and share content (text and images) with other people around you. It doesn't require Internet to work and rely instead on Smartphone, Local Area Network (Bluetooth and Wifi) and human mobility to spread information.
Using only the social fabric as an infrastructure, it makes Rumble suitable for use case where the Internet is either best to avoid (surveillance/censorship) or simply not available.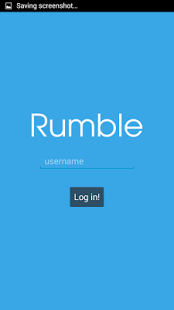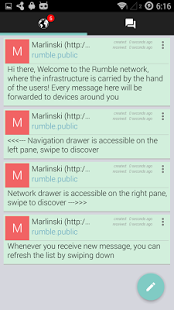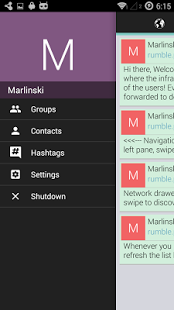 code
Source
file_download
Download