SaidIt
Client for saidit.net
Version: 1.9.9.2
Added: 07-01-2019
Updated: 01-03-2019

An official client for news site saidit.net. This app is a fork of
QuantumBadger's RedReader.
* Free and Open Source - no ads/tracking.
* Swipe posts and comments left and right to perform customizable actions
* Advanced cache management - automatically stores past versions of posts and comments.
* Support for multiple accounts.
* Two-column tablet mode
* Image precaching (optional).
* Built in image viewer, and GIF player.
* Support for imgur albums and gifv files
* Compression
* Night mode (i.e. a dark theme)
* Translations for some languages
---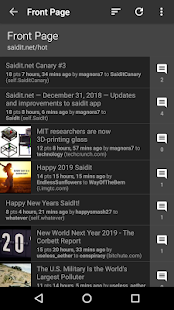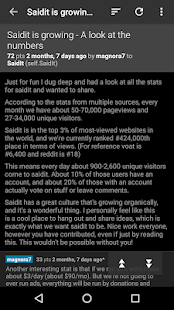 code
Source
file_download
Download