SchildiChat
Secure messenger for Matrix with a traditional instant messaging experience
Version: 1.5.8.sc62
Added: 29-08-2020
Updated: 02-12-2022

SchildiChat is a client for the matrix protocol, based on the Element app.
Compared to other clients, it provides a more classic instant messenger feel, while still providing the full functionality of the reference client.
The matrix protocol is a decentralized approach to modern messaging, allowing for end-to-end encryption, shared message history across multiple devices, and more.
Compared to the Element app, SchildiChat features following changes:
- A unified chat list for both direct and group chats
- Optional message bubbles
- Further usability improvements and additional settings to configure the app
SchildiChat is open source: https://github.com/SchildiChat/SchildiChat-android
More information about the Matrix protocol: https://matrix.org/
---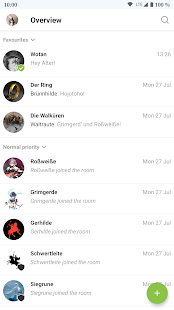 code
Source
file_download
Download