SealNote
Simple, safe and easy to use notepad
Version: 0.8.7
Added: 15-03-2017
Updated: 15-03-2017

'''Note:''' This app is no longer maintained.
SealNote is simple, safe and easy to use notepad application that puts security
first. Your notes are password protected using industry standard 256-bit AES
encryption. Keep sensitive information always available without compromising
security!
* Password protection (256-bit AES encryption)
* Organize notes using colors codes and tags
* Three different styles to list your notes and please your eyes
* Password expires after configurable timeout
* Protect content from screenshots, window switcher and other non-secure displays
* Multi-column layout with number of columns optimized for your screen size
* Simple and easy to use UI/UX
* No ads ever!
* Create encrypted data file for backup/restore
---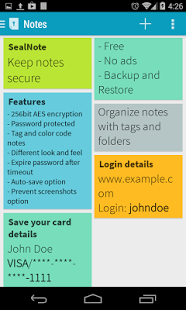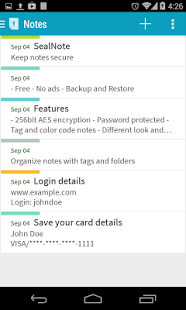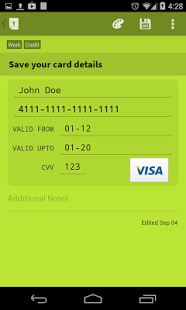 code
Source
file_download
Download