favorite Fossdroid Core is now open source: watch it, star it and fork it!
close
Ship Captain and Crew
Play a classic dice game for up to 4 players
Version: 1.8
Added on: 10-03-2017
Last update: 23-05-2017

A classic dice game for up to four players!
This simple game requires a lot of luck and a very small amount of skill. In times past, this game was used as a gambling or drinking game by sailors and merchants alike. You must procure a ship (6), a captain (5), and a crew (4), the remainder is your cargo.
Once you have your ship, captain, and crew, you can click on dice that you wish to hold in order to save them rather than roll them. You can also choose to keep them all if the conditions are right. The "point" or high score is always visible, and that is a big help to the "hammer" or the last player.
This game is open source and add free! So grab a couple friends and set sail for high adventure with this fun little dice game. If your lucky, you may even strike "midnight"!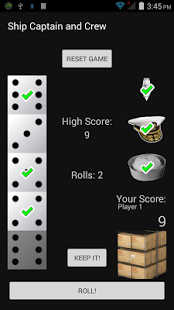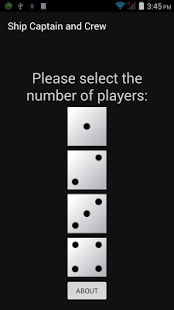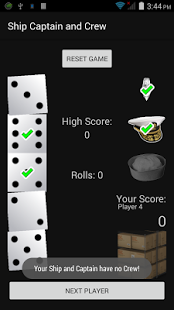 code
Source
file_download
Download