Text Fairy
An OCR App
Version: 4.1.0
Added: 19-03-2021
Updated: 19-03-2021

Note: newer versions of this app are not distributed
under a FOSS license and not available on F-Droid.
An android OCR app that allows to manage your documents,
extract text from images and photos and much more.
List of features:
* Extract text from images
* Edit, share, or export as PDF
* Works offline to protect your privacy
* Reads text out loud. (Text-to-speech, TTS)
* Recognizes printed text from more than 110 languages
* Scan documents with text in multiple languages
* Manage your scanned files (edit, join, delete)
* Automatically cleans up the image, corrects the viewpoint and straightens text lines
* Automatically detects text columns in complex documents
Please bear in mind that Text Fairy cannot read handwriting.
Antifeatures:
* Tracking - app has usage data reporting turned on by default. It can be disabled in About->Privacy Policy.
* NonFreeNet - additional language packs are hosted on github and a youtube embed in help section that plays automatically.
---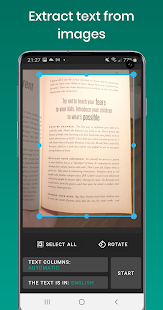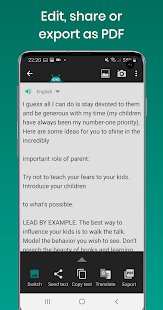 code
Source
file_download
Download