Simple Thank You - To our supporters
Thank you for supporting us!
Version: 5.4.0
Added: 29-01-2018
Updated: 18-11-2021

If you like our apps which are free, non-intrusive and have no ads, please consider supporting us in some way. It will be hugely appreciated.
Having this app installed will prevent the displaying of a "Donate please" dialog. Other than that, it also allows using a Shared Theme, which means that as soon as you change a color in one app, all other apps will be updated. Newly installed apps from the suite will automagically receive the shared colors too.
It might unlock more extra features in the future. Please keep the app installed at least for a day, to avoid getting automatically refunded.
Contains no ads or unnecessary permissions. It is fully opensource, provides customizable colors.
This app is just one piece of a bigger series of apps. You can find the rest of them at https://www.simplemobiletools.com
---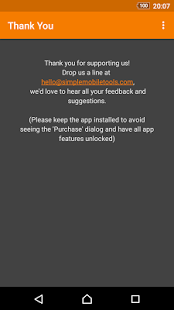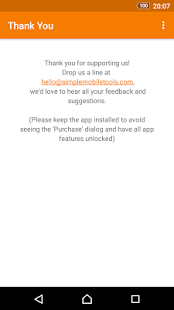 code
Source
file_download
Download