Virtuosity
Organize and track your music practice
Version: 1.0.1
Added: 29-04-2021
Updated: 04-09-2021

Virtuosity helps you organize and track your music practice, allowing you to your reach musical goals faster.
Organize
Create routines of the exercises you wish to practice.
Practice
Stay focused while practicing with a built in timer.
Measure
View logs of your previous practice sessions, as well as detailed graphs showing your performance (BPM) over time.
Offline, ad-free, and open source
No advertisements, annoying notifications, intrusive permissions, or trackers in this app. Your data is yours. The complete source code is available under an open-source license (GPLv3).
---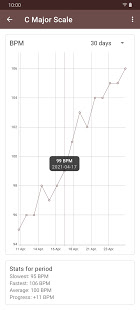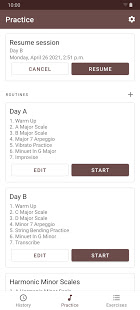 code
Source
file_download
Download