WaniDoku
Improve your Japanese with WaniKani context sentences
Version: 1.0.6
Added: 14-11-2020
Updated: 03-05-2021


You need to be a WaniKani subscriber to use this app.


Ever worry that you are forgetting all your burned kanji and vocabulary? Do you find yourself not reading as much Japanese as you'd like?


This app will display a notification containing a context sentence from one of your burned (or passed) vocabulary. You read it then you press translate to see if you were right. Right or wrong, the app will display another notification with a random sentence at a configurable interval.


To ensure notifications are actually displayed remember to disable battery optimization for the app.

• Note that timing of notifications are not exact due to battery saving reasons in Android.


Please direct any questions and feedback to the thread at the WaniKani forum:
https://community.wanikani.com/t/android-wanidoku-android-app-to-get-you-to-read-some-context-sentences.


Source is provided under GNU GPLv3 license: https://gitlab.com/spacecowboy/wanidoku

---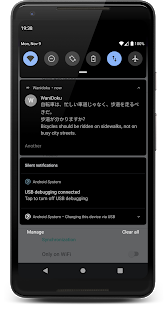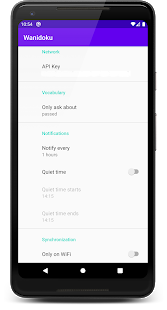 code
Source
file_download
Download