Was geht App?
Discover concerts, partys, theatre, cinema and much more in your area (Germany o
Version: 1.9
Added: 19-10-2020
Updated: 19-10-2020

Features:
- Thousands of events per bigger city every month
- Fulltext event- and location-search
- Clearly arranged categories
- Mostly with detailed information about each event, including text, photos, videos and links to the organizer / source
- Simple search for events for children or with free entry
- Location-Event-Listing
- individual favorit- and blacklisting of locations
- possibility to share choosen events to your android-event-calendar
- Link to maps from detail view
- Maps-view of the events with category-symbols
- Preview of events in your area using media such as youtube, soundcloud, bandcamp,..
- Small installation size & low memory consumption
If your german city is not listed, or you are missing dates, please send us an email to info@wasgehtapp.de and we will try to find a solution as soon as possible! We are also happy about suggestions for improvement!
---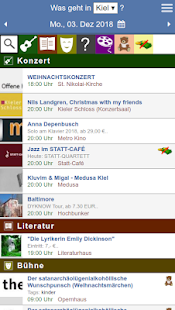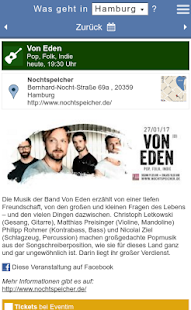 code
Source
file_download
Download