WWWJDIC for Android
Japanese online dictionary
Version: 2.3.7
Added: 23-01-2013
Updated: 19-01-2015

Frontend for
WWWJDIC
. For more details, see the
FAQ
. Dictionary search supports romaji lookup, but you need a Japanese IME to
use all features.
* Full tablet support
* Japanese pronunciation (via a separate, non-free app)
* Text to speech for kanji and dictionary entry translations
* Multi-radical kanji search
* Kanji of the day widget
* Japanese sentence translation
* Example search with approximately 150,000 examples (Japanese/English pairs)
* Example word breakdown/translation
* Animated stroke order diagrams for over 6000 kanji
* History and favorites with backup and restore
* Favorites export to CSV and Anki
* Handwriting recognition (via a separate, non-free app)
* Optical Character Recognition (WeOCR; author's server)
* OCR-based handwritten kanji recognition, does not require correct stroke order
A proprietary analytics library was removed before building, so the analytics
switch in the preferences isn't relevant. Anti-feature: Tracking. Crash reports
are sent by default, though that can be disabled.
---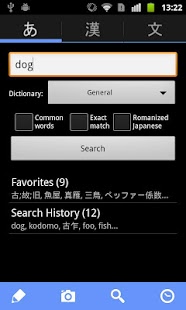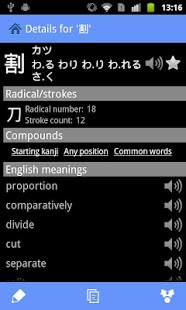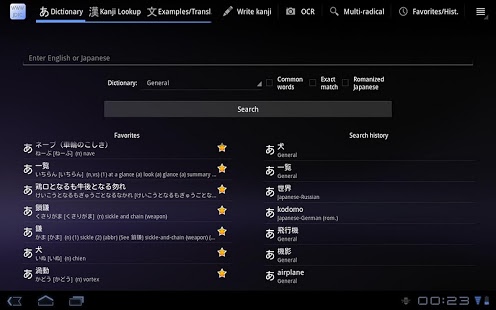 code
Source
file_download
Download